Amazon Gets a Jump on Holiday Sales with Black Friday Daily Double Deals
By Rachel Cericola
Forget Black Friday. Well, it's kind of hard to do that considering how the shopping event has almost become like its own holiday. However, you may be able to finish up some of that shopping list before the turkey hits the table or the first Black Friday line starts to form.
Amazon just officially kicked off the shopping season with its new Black Friday Deals Store and an Electronics Holiday Gift Guide.
The Black Friday Deals Store is a first for the online mega-retailer. From now through December 22, 2013, Amazon will offer two Deals of the Day every single day. However, those bargains don't even begin scratch the surface. That's because Amazon also plans to throw out hundreds of Lightning Deals every week as well.
Amazon won't be announcing any of those deals in advance. That said, so far we've seen Amazon discounting plenty of Blu-ray sets, cameras, music players, projectors, and much more. To keep track of all of the current and upcoming deals, check out Amazon's Black Friday Deals Store: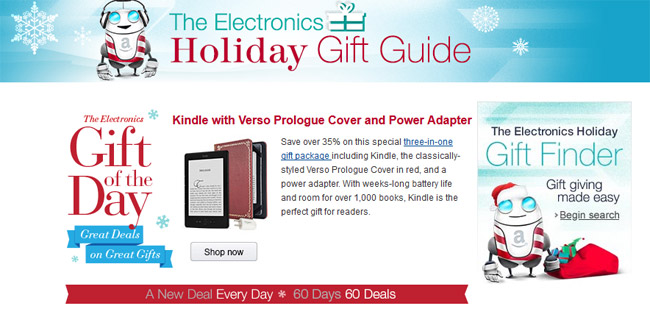 If you're confused about what to buy, Amazon also has the aforementioned Electronics Holiday Gift Guide. This section will highlight more than 350 electronic items. That kind of selection is awesome, but also a little daunting. Thankfully, Amazon has organized everything by category, gift recipient, price and interest.
You may even find something for cheap, since this portion of the site will deliver "60 gifts in 60 days," a collection of daily electronics deals, which will be posted every day from now through December 31.
While there's no word on what items Amazon will discount, the retailer is promising to post products that are currently trending in the electronics category. That could make it easy to put multiple Kindles for the home, as well as stuff stockings with wireless gadgets like Bluetooth speakers and headphones, soundbars, streaming media players, lightweight PCs, and even Ultra HD 4K TVs. Check out the categories, products and other info in the Electronics Holiday Gift Guide:
"We're making it easy for customers to discover and zero in on the hottest gifts and holiday trends -- from streaming media players to Bluetooth portable speakers," said Ben Hartman, vice president of consumer electronics for Amazon.com. "Our Electronics Holiday Gift Guide is designed to help people shop how they like: by price, category, gift recipient and interest. The Guide gives customers gift ideas for everyone on their list, making it easy to shop from the comfort of home and take advantage of fast and free shipping."
In addition to offering mobile app, Amazon will continue to entice shoppers with free two-day shipping for Prime subscribers and free Super Saver Shipping for all. Check out the fine print on each Amazon product page for more details.
Please note: all deals posted on Big Picture Big Sound are current as of the posting date and time. These deals are frequently time- or stock-limited and generally do not last. Final pricing and stock are determined by the individual deal provider, not by Big Picture Big Sound so you will need to click through on the offer link to see if it is still available. Through our affiliate relationships with many online vendors, Big Picture Big Sound may earn a small commission on any referred sale.