Alien Anthology Blu-ray Review
By Chris Chiarella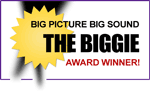 The Films
At the heart of the four movies that comprise the Alien Anthology is a simple but bold original idea: The mother of all badass extraterrestrials terrorizes the bloody hell out of a bunch of charismatic spacefarers. And yet this unlikely premise served as an invitation for some of the best filmmakers in Hollywood (and beyond) to pick it up and run with it.
The shock and fear of Ridley Scott's Alien caught audiences off-guard in 1979, a triumphant achievement in both science fiction and horror as a strange, violent creature hitches a ride on an interstellar mining ship. James Cameron added an element of action to Aliens, as dozens of these things overrun a terraforming colony, only to be pushed back by a squad of high-tech marines.
Alien3 lost its creative way at some point, and so the tale of critters reborn on a monastery/prison/foundry world winds up tiresomely talky and derivative. In its first minutes, it also pisses all over the beloved ending of its predecessor. And under the direction of the renowned Jean-Pierre Jeunet, Alien Resurrection emphasized humor in its exploration of genetic engineering set 200 years after Alien3, sometimes successfully, but also crossing over into silliness, which no other movie in this series ever did.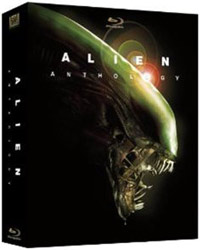 Each movie is presented in two different versions, the theatrical cut as well as a "special edition," although not necessarily a "director's cut."
Alien
benefits from some tweaks and restorations, while the longer
Aliens
is so dramatically enhanced, it is for me the only game in town.
Alien3
, for better or worse, is available in a half-hour-longer version, rescued from an earlier "workprint" edit. Most obviously altered in
Alien Resurrection
are the revised opening and the extended ending.
The Picture
The new Alien master shows the faint presence of ringing and noise and grain, but what we're really left with here is a rich, beautiful new transfer that is a joy to behold. The sets and costumes are famously elaborate, and it's all here, even the very deliberate minutiae in the backgrounds. The subtleties of the colors are really celebrated here, too. Aliens was never a very pretty film so I'm surprised that some of the shots, notably special effects, look as clean as they do. But other scenes look grainy and noisy, especially in the shadows. Detail can be striking, right down to Sigourney Weaver's pores, but blacks and out-of-focus backgrounds could be stronger.
Budgets grew and technology advanced in the six years between Aliens and Alien3, and yet despite some fancy new-style special effects, I found the image here to be little soft, and frankly a little noisy, which is a shame considering all the dark shadows of the locale. Alien Resurrection cannot claim to offer a gorgeous master of a gorgeous film, with video here that is again softer and noisier than I was expecting, while blacks are at times a hot mess. There's an unpleasant shift in the quality between certain scenes, even in the theatrical version where nothing was reinserted off of the cutting room floor. The colors are weird, but that at least is by design.
Only the second film in the series has an original aspect ratio of 1.85:1, the other three are all 2.35:1.
The Sound
The exquisite presence of Jerry Goldsmith's music in Alien, the fine detail particularly in the strings, serves to draw us into this world. The adventure is further enlivened by the ample bass which turns little plastic models into enormous spaceships. Aliens makes deft use of all five speakers, particularly for some terrific front-to-back and other directional phasing effects, Here again, bass is absolutely fantastic, with roomy trebles for little Newt's screams.
More aggressive rears were becoming the norm in cinema by the time of Alien3 (1992 was the same year that Dolby Digital 5.1 was introduced) and yet the audio here is more subdued than I'd like, perhaps in keeping with the events on screen. There are lots of echoes and more delicate resonance in this track at least. The surrounds for Alien Resurrection are subtle but not state-of-the-art, and bass is not impressive either. We see lots of nifty weapons, but none are fully brought to life by the sound.
All four movies are accompanied by a DTS-HD Master Audio 5.1 soundtrack.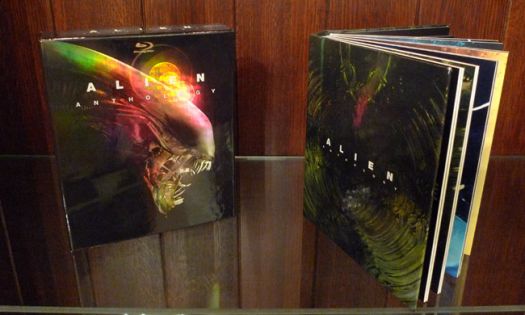 The Extras
Each film carries a full running audio commentary, and Alien even has two. Director Ridley Scott is joined by writer Dan O'Bannon, executive producer Ronald Shusett, editor Terry Rawlings and actors Sigourney Weaver, Tom Skerritt, Veronica Cartwright, Harry Dean Stanton and John Hurt on the first, flying solo on the second. For Aliens, director James Cameron re-teams with producer Gale Anne Hurd, alien effects creator Stan Winston, visual effects supervisors Robert Skotak and Dennis Skotak, miniature effects supervisor Pat McClung, and actors Michael Biehn, Bill Paxton, Lance Henriksen, Jenette Goldstein, Carrie Henn and Christopher Henn.
Director David Fincher has distanced himself from Alien3, his first feature film, and so the experts here include cinematographer Alex Thomson, B.S.C., Terry Rawlings again, alien effects designers Alec Gillis and Tom Woodruff, Jr., visual effects producer Richard Edlund, A.S.C., and actors Paul McGann and Lance Henriksen. And for Alien Resurrection we can tune into director Jean-Pierre Jeunet, editor Hervé Schneid, A.C.E., Gillis and Woodruff, Jr. again, visual effects supervisor Pitof, conceptual artist Sylvain Despretz, and actors Ron Perlman, Dominique Pinon and Leland Orser. All of these commentaries have been previously released.
Music lovers, rejoice: The complete film scores have been isolated in Dolby Digital 5.1. For Alien (Jerry Goldsmith) and Aliens (James Horner) we are offered both the final theatrical isolated score and the composer's original isolated score with some intriguing differences between them. Little indicators pop up on the screen as we listen. Alien3 (Elliot Goldenthal) and Alien Resurrection (John Frizzell) are final scores. All are synched to the original theatrical cut of the film in each case.
Before I go any further, I must point out that there is so much bonus material here that we are given the Interactive MU-TH-UR Mode, named for The Nostromo's shipboard computer, with its own tutorial. It helps us organize what's on each disc, including the topics of discussion currently on the commentaries, as well as tag points of interest while we watch, so we can pull up relevant featurettes later, when we get to Discs Five and Six. It's a compact but thorough graphic overlay that we can access at any time, once we opt into this Bonus View Mode, which also incorporates Weyland-Yutani Datastream trivia.
Deleted/alternate/extended scenes for each movie can be identified during the special editions with an onscreen "X," or we can index them all or view any we choose via branching during the theatrical cuts. Make sure you have fresh batteries, because the remote control is going to get quite a workout.
Disc Five is entitled "Making the Alien Anthology," one of the most comprehensive behind-the-scenes studies ever assembled for home video. It is categorized by the four films, with a quick, effective Datasearch of key words that can take us to the specific ideas we want to know more about. The video is largely recycled, but presented in a fresh way, with additional "pods" that cull previously unseen interview footage to provide priceless new amplification to the stories of the making of the films.
Disc Six is "The Alien Anthology Archives," a roundup of seemingly every remaining bit of bonus content, a multimedia extravaganza (still/text frames, alternate angles, alternate audio) created for each of the four movies, plus some that span the entire saga. Thankfully, the groundbreaking laserdisc special editions are encompassed here as well.
Beyond what's on the individual movie platters, expect to spend literally days sorting through everything here, and I can definitely understand a fan's motivation to do so.
This set also boasts some of the deepest, most thoughtfully designed menus I've ever seen. And the discs arrive inside a kinda cool, kinda impractical boardbook-type package, accompanied by stills and artwork from the film.
Final Thoughts
I am tempted to use my old Alien Quadrilogy boxed set as a doorstop from now on. Fox's magnificent new Alien Anthology is the only way I ever want to watch these movies again. Would that I had the time to discover every last surprise on the two bonus discs, too. Ah, to be young and dateless...
---
UPDATE (10/24): Some early purchasers and reviewers have noted some compatibility issues with the "Alien Anthology" Blu-ray set.  We have tested the set on seven different players and seen only minor issues so far: the OPPO BDP-83 begins the "Director's Cut" of Alien with the screen zoomed in on the left corner of the image.  Hitting the "menu" button, then going back to "Play" restores the image to its proper size.  Also a Samsung player squishes Ridley Scott's intro to that same Director's Cut of "Alien" to 4:3 (should be 16:9).  But other than that, we've seen no compatibility issues on Samsung, Panasonic and LG Blu-ray players so far.  See the thread in our forum: Alien Anthology Blu-ray Player Compatibility for details
---
Where to Buy:
Also available in a Region-Free Version (reportedly works fine on US Blu-ray players, including all supplementary content):
Product Details:
Actors: Sigourney Weaver, Lance Henriksen, Tom Skerritt, Michael Biehn, Charles Dance, Wynona Ryder, Ron Perlman, Charles S. Dutton, Paul Resier, Bill Paxton, Harry Dean Stanton, Ian Holm, Veronica Cartwright
Directors: Ridley Scott, James Cameron. David Fincher, Jean-Pierre Jeunet
Audio Format/Languages: DTS-HD Master Audio 5.1 (English), DTS 5.1 (French, German), Dolby Digital 5.1 (Portuguese, Spanish); Dolby Digital Surround 4.1 (1979 Alien and 1986 Aliens only), Dolby Digital 2.0 (Alien and Aliens only)
Subtitles: English SDH, Portuguese, Danish, Finnish, French, German, Spanish, Dutch, Norwegian, Swedish, plus Commentaries in various languages
Aspect Ratio: 2.35:1/1.85:1
Number of discs: 6
Rating: R/Unrated
Studio: Fox
Release Date: October 26, 2010
Run Time: 118/137/115/109 minutes, original versions; 116/154/145/116 minutes, special editions
List Price: $139.99
Extras on Alien Anthology Blu-ray:
"MU-TH-UR Mode" Interactive Experience (Bonus View) on all six discs
Alien:

2003 Audio Commentary by Ridley Scott, Dan O'Bannon, Ronald Shusett, Editor Terry Rawlings, Sigourney Weaver, Tom Skerritt, Veronica Cartwright, Harry Dean Stanton and John Hurt
1999 Audio Commentary by Ridley Scott (Theatrical Cut only)
Final Theatrical Isolated Score
Composer's Original Isolated Score
Deleted and Extended Scenes

Aliens:

2003 Audio Commentary by James Cameron, Gale Anne Hurd, Stan Winston, Robert Robert and Dennis Skotak, Pat McClung, Michael Biehn, Bill Paxton, Lance Henriksen, Jenette Goldstein, Carrie and Christopher Henn
Final Theatrical Isolated Score
Composer's Original Isolated Score
Deleted and Extended Scenes

Alien3:

2003 Audio Commentary by Alex Thomson, Terry Rawlings, Alec Gillis and Tom Woodruff, Jr., Richard Edlund, Paul McGann and Lance Henriksen
Final Theatrical Isolated Score
Deleted and Extended Scenes

Alien Resurrection:

2003 Audio Commentary by Jean-Pierre Jeunet, Hervé Schneid, Alec Gillis and Tom Woodruff, Jr., Pitof, Sylvain Despretz, Ron Perlman, Dominique Pinon and Leland Orser
Final Theatrical Isolated Score by John Frizzell
Deleted and Extended Scenes

Disc Five: "Making the Alien Anthology":

"The Beast Within: Making Alien"
"Star Beast: Developing the Story"
"The Visualists: Direction and Design"
"Truckers in Space: Casting"
"Fear of the Unknown: Shepperton Studios, 1978"
"The Darkest Reaches: Nostromo and Alien Planet"
"The Eighth Passenger: Creature Design"
"Future Tense: Editing and Music"
"Outward Bound: Visual Effects"
"A Nightmare Fulfilled: Reaction to the Film"
"Superior Firepower: Making Aliens"
"57 Years Later: Continuing the Story"
"Building Better Worlds: From Concept to Construction"
"Preparing for Battle: Casting and Characterization"
"This Time It's War: Pinewood Studios, 1985"
"The Risk Always Lives: Weapons and Action"
"Bug Hunt: Creature Design"
"Beauty and the Bitch: Power Loader vs. Queen Alien"
"Two Orphans: Sigourney Weaver and Carrie Henn"
"The Final Countdown: Music, Editing and Sound"
"The Power of Real Tech: Visual Effects"
"Aliens Unleashed: Reaction to the Film"
"Wreckage and Rage: Making Alien3"
"Development Hell: Concluding the Story"
"Tales of the Wooden Planet: Vincent Ward's Vision"
"Stasis Interrupted: David Fincher's Vision"
"Xeno-Erotic: H.R. Giger's Redesign"
"The Color of Blood: Pinewood Studios, 1991"
"Adaptive Organism: Creature Design"
"The Downward Spiral: Creative Differences"
"Where the Sun Burns Cold: Fox Studios, L.A. 1992"
"Optical Fury: Visual Effects"
"Requiem for a Scream: Music, Editing and Sound"
"Post-Mortem: Reaction to the Film"
"One Step Beyond: Making Alien Resurrection"
"From the Ashes: Reviving the Story"
"French Twist: Direction and Design
"Under the Skin: Casting and Characterization"
"Death from Below: Fox Studios, Los Angeles, 1996"
"In the Zone: The Basketball Scene"
"Unnatural Mutation: Creature Design"
"Genetic Composition: Music"
"Virtual Aliens: Computer Generated Imagery"
"A Matter of Scale: Miniature Photography"
"Critical Juncture: Reaction to the Film"
Enhancement Pods

Disc Six: "The Alien Anthology Archives":

Alien:

Pre-Production
First Draft Screenplay by Dan O'Bannon
"Ridleygrams": Original Thumbnails and Notes
Storyboard Archive
"The Art of Alien: Conceptual Art Portfolio"
Sigourney Weaver Screen Tests with Select Director Commentary
Cast Portrait Gallery
Production
The Chestbuster: Multi-Angle Sequence with Commentary
Video Graphics Gallery
Production Image Galleries
Continuity Polaroids
The Sets of Alien
H.R. Giger's Workshop Gallery
Post-Production and Aftermath
Additional Deleted Scenes
Image & Poster Galleries
"Experience in Terror"
Special Collector's Edition LaserDisc Archive
"The Alien Legacy"
American Cinematheque: Ridley Scott Q&A
Trailers & TV Spots

Aliens:

Pre-Production
Original Treatment by James Cameron
Pre-Visualizations: Multi-Angle Videomatics with Commentary
Storyboard Archive
"The Art of Aliens: Image Galleries"
Cast Portrait Gallery
Production
Production Image Galleries
Continuity Polaroids
Weapons and Vehicles
Stan Winston's Workshop
Colonial Marine Helmet Camera videos
Video Graphics Gallery
Weyland-Yutani Inquest: Nostromo Dossiers
Post-Production and Aftermath
Deleted Scene: Burke Cocooned
Deleted Scene Montage
Image Galleries
Special Collector's Edition LaserDisc Archive
Main Title Exploration
Aliens: Ride at the Speed of Fright"
Trailers & TV Spots

Alien3:

Pre-Production
Storyboard Archive
The Art of Arceon
The Art of Fiorina
Production
Furnace Construction: Time-Lapse Sequence
EEV Bioscan: Multi-Angle Vignette with Commentary
Production Image Galleries
A.D.I.'s Workshop
Post-Production and Aftermath
Visual Effects Gallery
Special Shoot: Promotional Photo Archive
Alien3 Advance Featurette
"The Making of Alien3" Promotional Featurette
Trailers & TV Spots

Alien Resurrection:

Pre-Production
First Draft Screenplay by Joss Whedon
Test Footage: A.D.I. Creature Shop with Commentary
Test Footage: Costumes, Hair and Makeup
Pre-Visualizations: Multi-Angle Rehearsals
Storyboard Archive
"The Marc Caro Portfolio: Character Designs"
"The Art of Resurrection: Image Galleries"
Production
Production Image Galleries
A.D.I.'s Workshop
Post-Production and Aftermath
Visual Effects Gallery
Special Shoot: Promotional Photo Archive
"HBO First Look: The Making of Alien Resurrection"
Alien Resurrection Promotional Featurette
Trailers & TV Spots

Anthology:

"Alien Evolution" (Two Versions)
"The Alien Saga"
Patches and Logos Gallery
Aliens 3D Attraction Scripts and Gallery
"Aliens in the Basement: The Bob Burns Collection"
Parodies
Dark Horse Cover Gallery