Absolutely Fabulous: The Movie Blu-ray Review
By Rachel Cericola
The Film
Absolutely Fabulous was a staple of British TV on and off for over 20 years. The story of two boozy, fashion-conscious BFFs originally ran from 1992 to 1996, only to be revived in 2001. It didn't exactly have a typical series run, but Edina (Jennifer Saunders) and Patsy (Joanna Lumley) aren't your typical sitcom characters.

Apparently, they don't have the stamina of typical sitcom characters, either. Absolutely Fabulous: The Movie finds Edina and Patsy in their 60s, but the party has yet to stop. Well, it could stop, if Edina doesn't get her PR business back on track. To keep the champagne flowing, Edina decides that she needs to land Kate Moss as a client. However, instead of wooing the supermodel at a party, she accidentally pushes her into the Thames. Kate goes missing, the world goes into a tizzy, and suddenly the Ab Fab duo is on the run.
The adventure takes the two from London to France, with plenty of booze, coke, a nod to Some Like It Hot, and Ab Fab regulars Julia Sawalha, June Whitfield, and Jane Horrocks. There are also plenty of cameos, including Jon Hamm, Gwendoline Christie, Joan Collins, Cara Delevingne, Jerry Hall, Jean-Paul Gaultier, Rebel Wilson, Stella McCartney, and countless others.

Some of those cameos do take away from Edina and Patsy, which isn't exactly easy. However, it does weigh the film down in some spots. That said, if they intended for that to be tied into some sort of drinking game, then bravo.

Most TV shows don't translate very well to the big screen. The best example is HBO's Sex and the City, which produced two very successful, but completely unwatchable movies. However, Absolutely Fabulous: The Movie doesn't try to change its characters or make a any sort of a statement. They go with what they know and keep it to a digestible 90 minutes. Of course, not every second is comedy gold, but this little fling definitely has some very funny moments.
The Picture
Absolutely Fabulous: The Movie has a pretty fabulous image. The best part of this 2.39:1 image is definitely the color palette, which pops with reds, pinks, blues, greens, and every other color of the rainbow. It's pretty sharp, too. Blades of grass, ripples in the water, wrinkles, Patsy's fuzzy pink pajamas, swirling cigarette smoke, and so much more is evident here. The on-screen action isn't always pretty, but at least it's a pretty Blu-ray.
The Sound
Fox has given the Ab Fab movie a DTS-HD Master Audio 5.1 track. It's good, but this is a very front-heavy track. The surrounds are pretty much limited to music instead of using the whole soundfield to convey some of the on-screen debauchery. Since it's a comedy, it's not all that surprising. It also doesn't take away from the movie at all, but it just could be a fuller experience.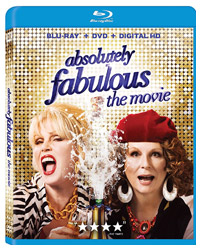 The Extras
There seems to be a little missing from this release's extras section, most notably a commentary track with Jennifer Saunders and Joanna Lumley. That would have elevated this section another full star. Instead, there are photos, trailers, less than four minutes of deleted scenes, eight minutes of outtakes, and 14 minutes with Dame Edna (who is just a blip in the actual movie). The best part of the lot is a set of "Promotional Featurettes." Divided into nine parts, this section mixes parts of the movie with the on- and off-screen participants talking about the characters, the fashion, the locations, and more. There's nothing mind-blowing here, but fans will want to flip through the various topics -- which don't have any sort of "play all" option
Final Thoughts
Absolutely Fabulous: The Movie plays like an extended version of an episode -- and there's absolutely nothing wrong with that. It may limit the audience, but fans will adore seeing that Edina and Patsy are still crazy after all these years. They probably won't love the lack of extras, but the actual movie should be enough. It's pretty funny, with an A/V presentation that's worthy of this classic comedy duo.
Product Details
Actors: Jennifer Saunders, Joanna Lumley, Julia Sawalha, June Whitfield, Jane Horrocks, Chris Colfer, Kate Moss, Lulu, Emma Bunton, Robert Webb, Barry Humpkins
Director: Mandie Fletcher
Audio/Languages: DTS-HD Master Audio 5.1 (English), DTS 5.1 (French), Dolby Digital 5.1 (Portuguese, Spanish), DVS 5.1 (English)
Subtitles: English SDH, French, Portuguese, Spanish
Aspect Ratio: 2.39:1
Number of Discs: 2
Rating: R
Studio: Fox
Blu-ray Disc Release Date: November 29, 2016
Run Time: 91 minutes
List Price: $39.99
Extras:

Deleted Scenes
Outtakes
On Set with Dame Edna
Promotional Featurettes:

Have a Look, Sweetie Darling!
Locations
Legacy U.S.
Cameos
Drag Queens
Making Of
Legacy UK
Fashion
Characters

Gallery
Theatrical Trailer
Sneak Peek
Standard-Def DVD
UltraViolet Digital Copy