A Thousand Words Blu-ray Review
By Rachel Cericola
The Film
There's a point in the movie A Thousand Words where you start to think that Eddie Murphy could be great again. Sadly, it's fleeting.
Because A Thousand Words is sort of a Liar Liar rip-off, and Murphy is no Jim Carrey. He's not a physical comedian; his forte is the spoken word. Yes, there is a quick glimpse of the Eddie Murphy of yore, but the dude needs a good movie. He's Gumby, dammit!
Here though, he is Jack McCall, a spazzy literary agent and not a very nice man. After trying to use some of his BS on a spiritual guru (Cliff Curtis), he finds a freaky tree in his backyard. This isn't filled with cherry blossoms, but with leaves that fall with each one of Jack's words. When the leaves are gone, so is Jack. Of course, everything around him starts to get affected by his quiet time -- and not really in a funny way.
A Thousand Words could have been mildly entertaining, but they took away Murphy's one superpower: speech. Instead it's just another addition to the comedian's giant crap-heap of a resume. It's a shame, too, because everyone in this movie is insanely talented. Murphy, Kerry Washington, Allison Janney, and yes, I'm going to lump Hot Tub Time Machine's Clark Duke in that group as well. He's not as accomplished as the others, but he certainly deserves better than A Thousand Words.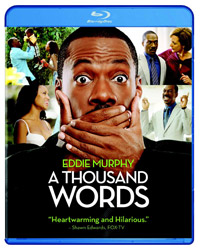 The Picture
Paramount has treated Eddie Murphy like a true star with this 2.40:1 transfer. It's a super-sharp presentation. There are textures on clothing and furniture and even the quick glimpses of Murphy's hands show detailed signs of age. Colors are equally as wonderful, in the tree, the stylish surroundings, the offices, and the even the Starbucks. It's a shame that such a good-looking movie is so hard to watch.
The Sound
For a comedy, A Thousand Words has a pretty active audio track. Dialogue is always clear, but the DTS-HD Master Audio offers plenty of surround action. The first appearance of the tree, the traffic, and other wackiness surrounding the on-screen situation all pack a nice wallop.
The Extras
A Thousand Words was shelved for four years, so it's not surprising that people didn't want to come back for featurettes and commentary. The release includes an alternative ending, 11 deleted scenes, and a UltraViolet Digital Copy.
Final Thoughts
Eddie Murphy seemed to be making a slight comeback with the 2011 comedy Tower Heist. Then, Paramount had to drop this (literal) bomb. Despite the great cast and a wonderful audio/video presentation, A Thousand Words is a waste in every way possible.
Product Details
Actors: Eddie Murphy, Kerry Washington, Cliff Curtis, Clark Duke, Allison Janey
Director: Brian Robbins
Audio/Languages: DTS-HD Master Audio 5.1 (English), Dolby Digital 5.1 (French, Spanish, Portuguese), DVS (English)
Subtitles: English, English SDH, French, Spanish, Portuguese
Aspect Ratio: 2.40:1
Number of Discs: 1
Rating: PG-13
Studio: Paramount Pictures
Blu-ray Disc Release Date: June 26, 2012
Run Time: 91 minutes
List Price: $39.99
Extras:

Deleted Scenes
Alternate Ending
UltraViolet Digital Copy