A Nightmare on Elm Street (2010) Blu-ray Review
By Chris Chiarella
The Movie
A teenager's dreams are haunted by a hideous, violent stranger. But this monster-man is not just frightening, he has the power to manipulate, even kill the dreamer. And then one by one the victim's friends and neighbors begin having the same bad dreams, with the same bloody results. This is indeed A Nightmare on Elm Street.
I suppose that all remakes are ironic in that they capitalize upon what was once a genuinely novel idea, with the intent of feeding it to audiences again. Wes Craven's original Elm Street was so imaginative that it spawned excessive sequels, prequels, crossovers, and even a TV spin-off, while his villain, Freddy Kruger, almost immediately entered the short list of true genre icons. This new movie has been updated only insomuch as the characters now research similar incidents online, and drink Red Bull to stay awake, neither of which was possible back in 1984. But tales of unexplained deaths in fantasy/horror beg investigation, and most of today's audience already knows full well who is perpetrating these deeds and how, so the screen time spent unraveling this same old plot is really just naptime until the next unconscious slashing begins.
Can't sleep? Then check out Lora Grady's review of A Nightmare on Elm Street, if you dare.
The Picture
The 2.40:1 image quality isn't horrific, but neither is it the stuff that dreams are made of. Early on I noted troublesome moiré on a stack of plates, and then later elsewhere in the movie. Out-of-focus backgrounds can look seriously compressed, and noise taints the video from time to time. Detail is generally fine, and the movie boasts some effectively offbeat lighting and color, but blacks could be more detailed and natural.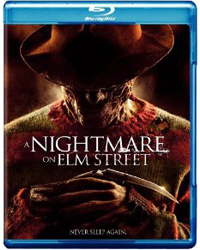 The Sound
The DTS-HD Master Audio soundtrack is a different matter, highlighted by very aggressive rears throughout. There's loud rain, booming thunder, and muttering voices that really make us feel like we're in the thick of this world. As part of the 5.1 mix, they serve to enhance the requisite sonic jolts. In addition to all of the more blatant sensory assaults, there are a lot of more sonically creative moments, as when The Gloved One exits behind us to the right, or he attacks underwater. Plenty of smaller, discrete details and crisp trebles are on display here too, for an impressive, well-balanced presentation.
The Extras
"WB Maniacal Movie Mode" is the studio's latest riff on their "Maximum Movie Mode" flavor of Bonus View. But in contrast to their best-ever "Maximum Comedy Mode" on the Cop Out Blu-ray, this is not one of their more elaborate efforts, assembled largely from EPK-type interview footage, shown in an occasional window over the movie. Seven brief Focus Points (about two-and-a-half to four minutes each) also provide further insight on key aspects of the film.
"Freddy Kruger Reborn" is an all-encompassing look behind the scenes (14 minutes). An alternate opening, a deleted scene, and an alternate ending are also included, running eight minutes total. All of this bonus content is in HD, and the disc is also BD-Live-enabled. Disc Two is a hybrid DVD with a standard-def version of the movie as well as a Digital Copy for iTunes and Windows Media.
Final Thoughts
On its own, the remake of A Nightmare on Elm Street is not a terrible movie--save for a handful of corny creaks in the script--but in a world where Freddy has been slicing and dicing for more than a quarter-century, a few modest tweaks are not enough to get our blood pumping. Neither is the merely adequate video on this disc, although the high-res 5.1 audio certainly won't allow us to nod off.
Product Details
Actors: Jackie Earle Haley, Rooney Mara, Kyle Gallner, Katie Cassidy, Thomas Dekker, Kellan Lutz, Clancy Brown, Connie Britton
Director: Samuel Bayer
Audio Format/Languages: DTS-HD Master Audio 5.1 (English), Dolby Digital 5.1 (French, Spanish, Portuguese)
Subtitles: English SDH, French Spanish, Portuguese
Aspect Ratio: 2.40:1
Number of discs: 2
Rating: R
Studio: New Line/Warner
Release Date: October 5, 2010
Run Time: 96 minutes
List Price: $35.99
Extras:

WB "Maniacal Movie Mode" (Bonus View)
"Freddy Kruger Reborn"
Focus Points
Additional Footage:

Hospital Opening
Nightmare Street
Alternate Ending

DVD copy of the movie
Digital Copy
BD-Live