A Christmas Carol (2009) Blu-ray Review
By Chris Chiarella
The Movie
Robert Zemeckis' aggressive retelling of Charles Dickens' A Christmas Carol is his latest digitally animated extravaganza, on the heels of Beowulf and The Polar Express. The rapidly advancing technology shows, as the images here are a wonder to behold.
The story too is endearing, if by now familiar: Quite possibly the meanest man in London, 1843, a moneylender named Ebenezer Scrooge (Jim Carrey, who performs every version of the character, all three ghosts and more) has no room in his little-used heart for Christmas. A trio of spirits visits him to remind him of the true beauty of the season, offering his joyless soul one last chance at redemption.
This version is fast-paced, loud and respectably stylized, if a bit overdone at times. (A tiny Ebenezer surfs across a rooftop on an icicle, for what seems like half an hour.) But then again this movie was one the major 3D theatrical releases in 2009, now on Blu-ray 3D too, and I can see where a lot of the 3D effects likely appear, although I haven't seen that version yet.
Don't wait until December 25th to unwrap Joe Lozito's review of A Christmas Carol.
The Picture
Many were the times I forgot that this is an animated movie, thinking instead that I was watching live action for the copious amounts of detail on display, tricking the eye and the brain with an almost hyper-realism in the carpets, the clothes, the twinkling nuances of otherworldly forces. There are magnificently stable mists, and the gentle glowing of a candle, and save for a smidgen of video noise in layers of fine hair (is the 2.4:1 image sometimes too busy for its own good?) and some slight video streaking in virtual camera moves, the video here is a front-to-back stunner.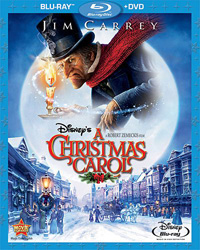 The Sound
The DTS-HD Master Audio 5.1 track is a fine complement to the no-excuses picture, a dynamic mix that has voices moving from speaker to speaker, bells ringing all around us, and credible simulations of rooms full of people. There's plenty of artful sonic storytelling and over-the-top action too, backed by impressive bass power that genuinely wows the audience.
The Extras
Bonus View picture-in-picture is taken to a new level with "Behind the Carol: The Full Motion-Capture Experience," with optional commentary by producer/director/screenwriter Robert Zemeckis and a brief on-camera introduction. It lays bare the secrets of the production's sophisticated "mo-cap" process, giving aficionados of this new digital filmmaking age the sort of thing that they have been dreaming of: a full side-by-side before-and-after comparison of this brave new technique. The pop-up menu makes it easy to turn the commentary on or off on-the-fly, as well as swap between viewing the motion capture footage full-screen or as a small window against the finished movie. This feature is especially fascinating as we see how they handled challenges such as Jim Carrey acting with Jim Carrey, co-starring Jim Carrey in a supporting role. (The answer requires multiple windows to explain.)
"Capturing Dickens: A Novel Retelling" is a 15-minute featurette exploring much the same topic in a different way, while the two-minute "On Set with Sammi" gives us a kid's-eye view, from the vantage point of young actress Sammi Hanratty, who plays one of the Cratchit girls. There are also six deleted scenes, about nine minutes total, and a fun little "Countdown to Christmas Interactive Calendar" that the little ones might enjoy. Disc Two is a DVD of the movie plus "Capturing Dickens," "On Set with Sammi" and three of the deleted scenes.
Final Thoughts
Technically outstanding and boasting one of the most interesting uses of Bonus View yet, Robert Zemeckis' take on A Christmas Carol is might not be the most faithful rendition of the classic tale, but on Blu-ray it is certainly a thrilling holiday treat.
Product Details
Actors: Jim Carrey, Gary Oldman, Colin Firth, bob Hoskins, Robin Wright Penn, Cary Elwes, Fionnula Flanagan, Sammi Hanratty
Director: Robert Zemeckis
Audio Format/Languages: DTS-HD Master Audio 5.1 (English), Dolby Digital 5.1 (French, Spanish), Dolby Digital 2.0 (English Descriptive Video Service)
Subtitles: English SDH, French, Spanish
Aspect Ratio: 2.40:1
Number of discs: 2
Rating: PG
Studio: Walt Disney
Release Date: November 16, 2010
Run Time: 96 minutes total
List Price: $39.99
Extras:

Behind the Carol: The Full Motion-Capture Experience (Bonus View) with Optional Audio Commentary by Robert Zemeckis
"Capturing Dickens: A Novel Retelling"
"On Set with Sammi"
Deleted Scenes
DVD of the movie with select bonus features